PODO Expert
Foam creams for skincare since 1998.
Your Well-Being is Our Motivation
As suppliers of therapeutic skincare products, our product range is focused primarily on high-quality foam creams. We have been researching and developing foam cream care products for the health and well-being of your skin for the last 20 years.
In addition, however, you can look forward to new solutions from us in the field of podiatry – most recently, for example, our innovative and versatile system for painless nail correction. We continue to work daily on our ideas for improved well-being and reduced physical stress. Foot specialists, physicians, pharmacists as well as countless users are as satisfied as we are with our products' effectiveness.
Scientific
Neubourg skincare develops and distributes therapeutic skincare products for a wide variety of skin problems. All of our activity is based on the principles of quality, innovation and service. Our research, experience and knowledge in the area of dermatological skincare allow us to develop innovative products with the guidance and support of leading experts in the fields of dermatology, diabetology and podiatry. It is only in this way that we can continue to develop our formulas based on the latest scientific findings. Our studies are carried out according to pharmaceutical standards (double-blind, randomized and placebo-controlled) and the tolerability of our products is confirmed by independent institutions.
Effective skincare. Scientifically proven efficacy.
There are hundreds of different creams to choose between at pharmacists and supermarkets. Many of them contain more grease than anything else. A greasy film on the skin can harm natural skin functions and increase the risk of slipping or even falling.
Besides this, clothing cannot be put on again immediately. Foam creams are modern skincare products as they are easily spread and rapidly absorbed, with outstanding coverage. Foam creams last much longer than comparable emulsions. They offer innovative skincare that repairs and regenerates the skin barrier. BarrioExpert LIPO2 Skin Repair Technology was developed on the basis of BarrioExpert Technology and its familiar benefits. The structural characteristics of the skin-related lipids in these products are similar to the lipids that occur naturally in the skin. They position themselves in the typical, highly compact lipid bilayers just like natural barrier lipids, which enables them to fit perfectly into the gaps in the lipid film of dry skin like pieces of jigsaw puzzle.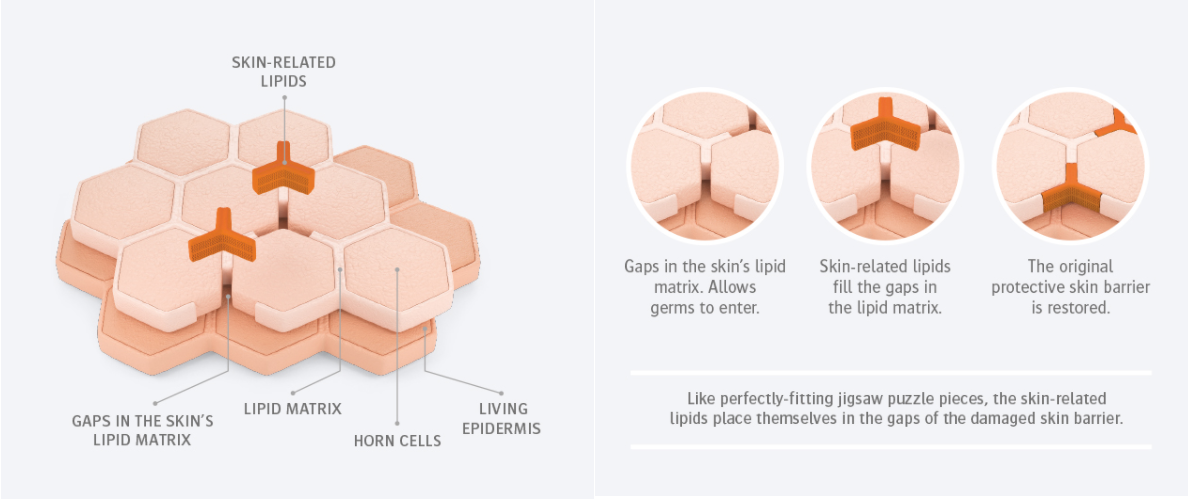 Advantages of BarrioExpert LIPO2 Skin Repair Technology:
Repairs the damaged skin barrier rapidly, within only 4 weeks
Promotes skin regeneration
Restores the skin's natural protective function
Scientific studies confirm:
The health of the skin barrier can be restored within 4 weeks using foam creams on the basis of BarrioExpert LIPO2 Skin Repair Technology. Why is it so important to restore the lipid film quickly? As the skin-related lipids fit perfectly into the gaps in the lipid film, the skin barrier can rapidly regain its natural protective function.
Why is it so important to restore the skin barrier quickly?
The skin barrier is restored by the skin-related lipids as they fit perfectly into the gaps in the lipid film. This allows the skin barrier to rapidly regain its natural protective function.
Is it sufficient just to restore the lipid film in order for the skin barrier to achieve sustainable regeneration?
Repairing the skin barrier quickly is an important basis for a sustainable solution to skin problems. In addition to this, encouraging the skin to regenerate is essential for successful care over the long term. In scientific studies with our lipid foam creams on the basis of BarrioExpert LIPO2 Skin Repair Technology, we have been able to show that using our lipid foam creams encourages the skin to regenerate.
Hydration as a counterbalance to the moisture deficit of dry skin is also hugely important. Moisturizing factors contribute to balancing the loss of moisture in the skin. Besides skin-related lipids, our products are therefore equipped with ingredients such as physiological moisturizing factors in order to provide precisely this combination of increasing skin moisture and reducing moisture loss.
What is the role of the physiological moisturizing factors?
The physiological moisturizing factors support and improve the skin's natural ability to bind moisture.
Familial
Ever since Fritz Neubourg founded the company in 1998, we have been an independent, owner-operated family enterprise. We achieve our goals as a team, with joy and a positive attitude. Our interactions with one another are open, trusting and respectful. Individual responsibility, reliability and proactive thinking form the basis for our company's further development.
Exclusive
In order that our products meet the needs of your skin, we set high standards for ourselves. For us, an expert, individual and friendly consultation is an obligation as we move into the future. Therefore, our products are not available on the mass market, but only through foot specialists, pharmacies and selected cosmetic institutes. We support our professional customers with advanced training and scientific background information so that they can offer their services with the best possible professional and personal expertise.