Electric Nail Drill Class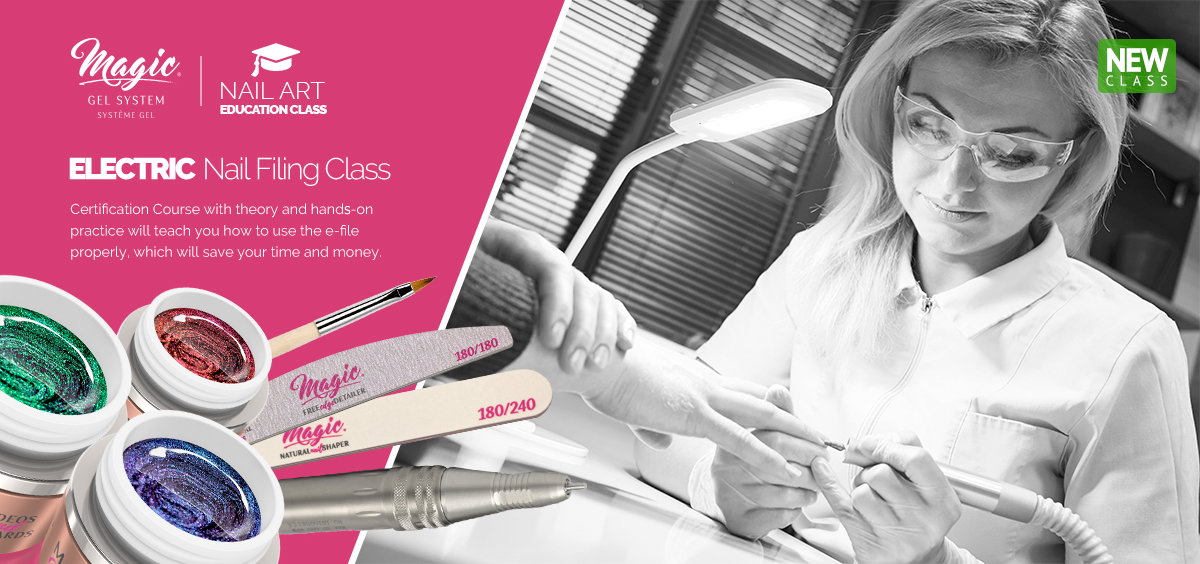 Learn how to use e-file properly and efficiently like a pro Nail Technician!
Since an electric filing manicure is suitable for 99% of your clients, learning how to use the e-file properly saves you time and money. Additionally, mastering proper e-filing techniques saves your neck, shoulders, hands, and wrists from the constant repetitive motion of hand filing. Combining e-filing and hand filing is your best option!
Purchasing or using an electric nail drill requires prior learning! Many Nail professionals only rely on a supplier's suggestion, but why not have the knowledge yourself?
This E-file course helps nail technicians to take care of the cuticle, sidewalls, and nail plate more quickly and safely. You will also learn how to choose the right tool, when each file bit should be used, and at what speed and angle.
Expert nail specialists and newbies will find this hands-on workshop useful. If you do classic manicure or nail sculpting, this course will help enhance your performance and teach you how to apply only the right techniques.
Learning how to use electric nail drill Magic Gel System is a great decision for your nail career goal. With continuous support, marketing, and training assets, you will have everything that you need to perform the conventional nail art service. We truly think you can achieve your goal with all the support Magic Gel can provide.
Class Information
Class Duration: 4 Hours
Class Fee: 149 + Tax
Class Dates: Nov. 3rd, 2019 (9:00 AM - 1:00 PM)
Class Location: 4500 Dixie Rd, Unit 10A-B Mississauga, Ontario, L4W1V7, Canada
Class Features
Proper and Safe electric file operation
Tips on how to make sure the applied product does not lift
Essential knowledge of different electric file bits
Products Provided
The class includes a Magic student nail kit set.
What To Bring
​Two sculpted salon shape nails, not shaped or filed
Three nails with no product on
Electric file
UV/LED Lamp
Overhead/Table Lamp
Cleanser/Wipes/Buffer/Plastic Tips
Any other items you might need
Willingness to learn and have fun!
Class Instructors
The class is instructed by Megan Taylor from Magic Gel, a successful salon Manager.