Education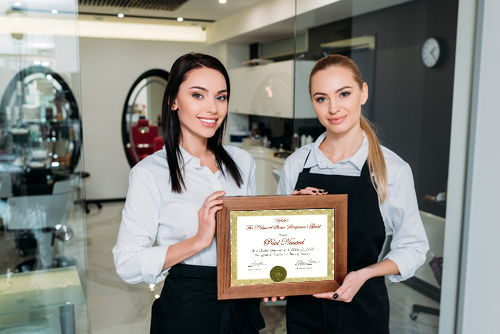 Career Education Workshops
At Nails R Us, our mission is to empower and teach students how to perform a multitude of different treatments and activities in a professional and relaxed environment with the guidance of a trained, lisenced professional. Students can discover and learn a wide range of different beauty training classes, from a waxing seminar to E-file nail drill advanced course and everything in between. Each class is taught and conducted by a trained professional who will assist and guide you throughout your involvement with the class.
Most classes and workshops take place at Nails R Us showroom located at 4500 Dixie Rd unit 10a-b, Mississauga. We provide a productive, friendly learning environment. Hands-on classes, we cannot accommodate models due to the lack of available classroom space. For workshops involving nails, we allow students to work on each other for a collaborative, friendly experience. This method allows students to get to know each other and also lets students collaborate and help each other out during the learning process. Everyone attending these workshops all have a similar goal, to learn and being able to work with each other can help everyone involved learn at a much quicker rate. Therefore, when attending a nails workshop, please have one hand with all natural colored nails so that other students can easily work on them. click here to browse our available courses
Nails and Beauty Education Classes
Learning as a process is never-ending. With new information, discoveries and innovations flooding the beauty industry at an alarming rate, the learning and adoption of more modern techniques is crucial and beneficial. If you are in the business of beauty and have contemplated further nail education, we at Nails R Us can provide you with courses and workshops that satisfy your need to learn and improve. In the beauty industry there is never a limit to how much one can learn, not only are there numerous skill and techniques to master but the industry is continuously seeing improvements, upgrades and changes in the market. Keep yourself updated with today's trends, products and technologies when you attend education courses taught by highly qualified instructors. Some classes and seminars are conducted online by the technician in charge of the class and information regarding how to join these online webinars while be provided for you upon registering for a class.
Who Can Join Classes?
As mentioned earlier our classes are for those already practicing in the industry, it is for skill and knowledge enhancement, and that is why our education courses are available to professionals in the nail, aesthetic, beauty, salon or spa industry only. Classes are not recommended for beginners just starting out, but rather for those with some essential professional knowledge/experience. We suggest having some amount of prior knowledge in the sphere as each class is of limited time.
The instructors of the Nail Career Education Classes can take lessons for you if you're practicing nail and beautification, they have ample knowledge to pass down, but if you do not have the time or means to train your staff, we can do that for you. Every spa or salon requires well educated, and efficient employees and you experts can bring your team up to a level that can rival any of your competitors.
You can also keep track of the upcoming classes by following us on Facebook and Instagram and keeping an eye on the weekly newsletter, to make sure not to miss out on new educational announcements! The Esthétique Spa International trade show is also considred as a usefull srouce for your sucessful career.