About Us
Our Story
In 2003, Nails R Us Beauty Supply Ltd. was founded by entrepreneur Joey Pham to revolutionize the Canadian beauty supply industry. His goal was to provide salon owners access to unmatched savings by changing how they buy and operate their businesses. For the past 20 years, we have been introducing Nails R Us Beauty Supply Ltd, a leading beauty supply wholesaler for Canadian businesses. We have established ourselves as Canada's top-choice beauty supplier, particularly in Greater Toronto. We are the official distributor for many well-known beauty brands and always strive to keep stock of all their products and lines.
Our Company
Nails R Us Beauty Supply Ltd. is dedicated to providing salon and spa owners with the tools and resources they need to specialize their businesses in beauty and self-care. As authorized beauty supply distributors in the Canadian market, we take the lead in making it easy for salon owners and professionals to fulfill their business needs. Our showroom, located in the Regional Municipality of Peel in Ontario, offers a wide range of beauty supplies for B2B customers. In addition to providing a wide range of beauty supplies, we also pride ourselves on our commitment to providing low prices to our B2B customers. Our warehouse is always fully loaded with nail and beauty supplies to support your business regardless of the demand you need.
Our Team
At Nails R Us Beauty Supply Ltd, our highly trained and experienced beauty experts are dedicated to providing exceptional customer service and support. They stay updated with the latest beauty trends and are always ready to assist our customers in finding the best products and solutions for their needs. They can help with information queries, customer support, and even set up a new salon. They are committed to providing an enjoyable and informed shopping experience and are always available to answer any questions or concerns. They can provide recommendations based on your specific needs, invite you to familiarize yourself with our best-selling product lines, and reach out to our team if you need assistance.
Shipping
We offer nationwide shipping with a distribution network that covers major cities across Canada, including Kitchener, Windsor, Ottawa, Montreal, Vancouver, Calgary, and Halifax. We understand the importance of accessibility and convenience for our customers, so we have made it easy for you to order products online and have them shipped directly to your location. We offer quick Canada-wide shipping, with 90% of all orders arriving within three business days. We also provide delivery options for Toronto, Mississauga, Oakville, Burlington, Hamilton, Brampton, and Ajax.
Core Competencies
Providing a wide range of quality salon and spa products, equipment, and furniture
Offering expert advice and support to help grow your business
Staying up-to-date with the latest beauty trends and products
Providing affordable prices for businesses
Delivering exceptional customer service
Vision
To be the leading provider of beauty products, equipment, and furniture for the professional beauty industry.
Mission
To empower salon and spa owners with the tools and resources, they need to deliver exceptional results and grow their businesses while providing excellent customer service and support.
To serve the professional beauty industry by providing the best, latest, and most affordable beauty products, salon equipment, and furniture.
To support our customers through education, salon support programs, and valuable information.
Values
Integrity
Dedication to customers, the company, and ourselves
Providing quality products and services
Building trust with customers
Consistency in delivering salon supplies.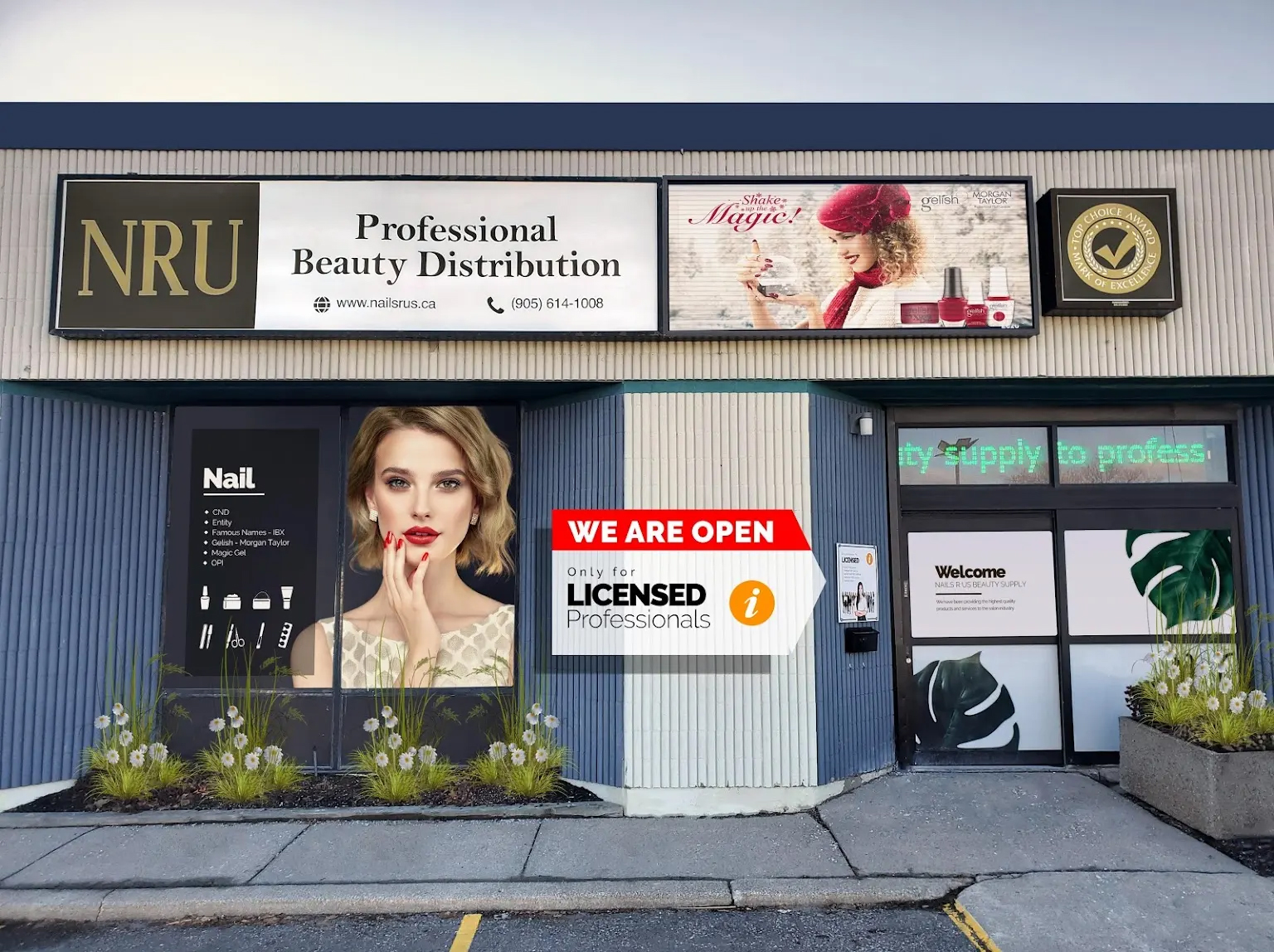 Our showroom storefront main door.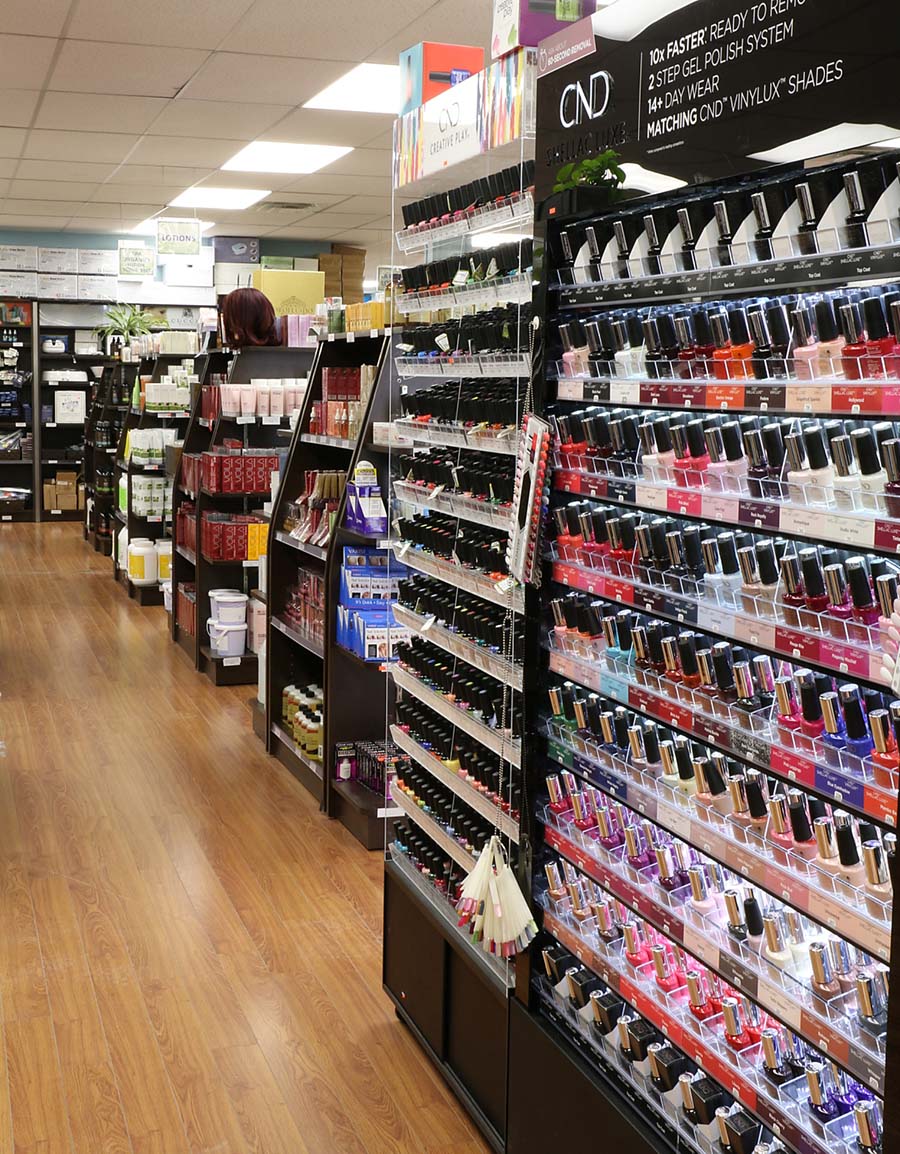 Our beauty supply showroom (interior and products)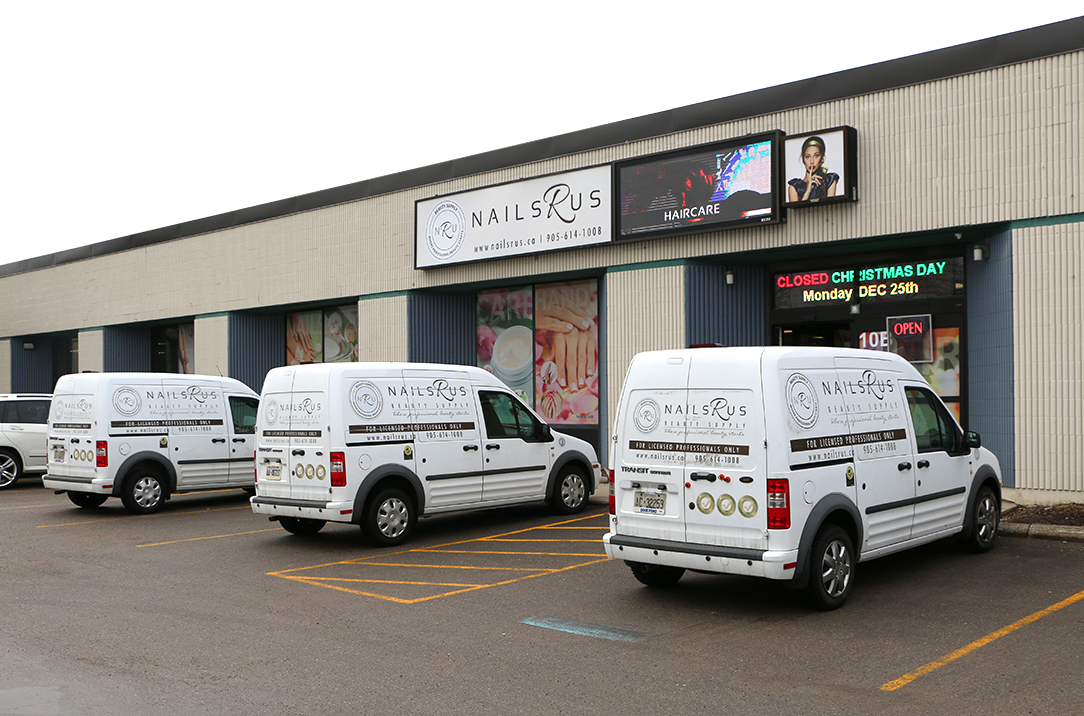 Our delivery team.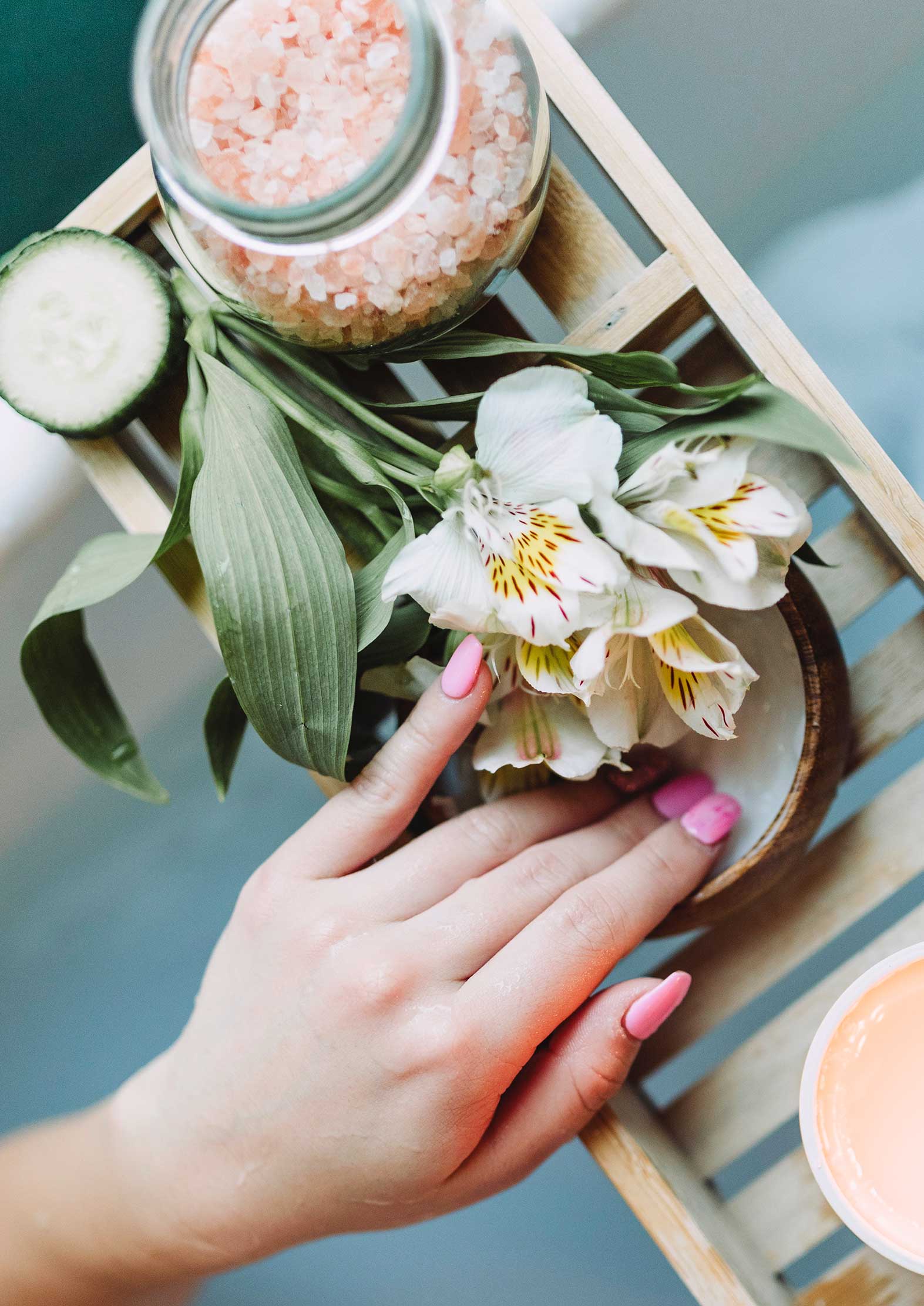 Our Products
We believe we are one of Canada's most extensive selections of beauty products. At our warehouse, we strive to provide everything a beauty business could need to succeed; that's why we stock our warehouse with over 20,000 beauty products from top brands. Our showroom is home to over five thousand nail polish colors, making us the country's largest nail polish supplier. We understand the importance of having a wide variety of colors to choose from, and that's why we always keep our selection up-to-date with the latest trends.
Our product offerings don't stop at nail polish; we also have a vast selection of nail essential supplies and beauty products that will meet any salon and spa's needs. We carry everything from acrylic and gel nails to nail files, buffers, and cuticle treatments. Additionally, we also offer salon equipment and furniture, as well as service for spa chair installation.
Our products are divided into four categories: nails, spas, hair, and cosmetics. We carry a wide range of products from well-known brands, including Shellac, Vinylux, GelColor, Infinite Shine, and Morgan Taylor. We understand that brands develop product lines to offer multiple variations, colors, or models under one product title. That's why we always aim to stock new product lines from the brand and make them available for your business locally.
All the products in our showroom and on our website are intended for business owners or individuals with licenses related to the beauty industry. Once registered, you can browse through our wide selection of products online, including our extensive collection of nail supplies. You can view pricing and product information and add items to your cart for easy ordering.
Our Brands
We are an authorized distributor for some of the world's top beauty brands, including Ardell, BabylissPro, Caronlab, Chisel, CND, Cuccio, Footlogix, Gehwol, Gelish, Hollywood Style, JB Lashes, Magic Gel, OPI, Refectocil, Satin Smooth, WAHL and many more. We are committed to only partnering with industry-leading beauty brands to ensure your customer satisfaction.
Repair Service
We understand the importance of keeping your salon equipment in good working condition, and that's why we offer repair services for our customers. Our Repair Service department highly specializes in repairing various machines, including electric nail drills (e-file), UV lamps, steamers, and spa pedicure chairs. We take pride in providing exceptional and high-quality services, ensuring that your equipment is in top working condition to keep your business running smoothly. Our team is dedicated to providing efficient and reliable repair services, so you can have peace of mind knowing that your equipment is in good hands.
Our Education
We are dedicated to providing the best possible training and development opportunities for professionals in the beauty industry. We collaborate with top beauty brands to offer a wide range of programs, advanced workshops, and beginner training to keep professionals and business staff updated with the latest trends in the industry. We aim to help students, nail technicians, hair stylists, and hair removal specialists acquire the knowledge and skills they need to excel in their field. We understand the importance of staying at the forefront of the industry, and that's why we offer comprehensive and up-to-date education programs to keep your staff trained, motivated and knowledgeable. Check out our website to learn about the current events and education courses we offer and see how investing in your staff's development can boost the growth of your business.
Demo Days (Product Showcase Event)
At our Demo Day events, brand ambassadors from top beauty brands such as CND, RefectoCil, Magic Gel, and more will be on hand to provide in-depth demonstrations and training on their products. You will have the chance to learn about the latest industry trends, techniques, and development features from the experts. Our demo days provide a unique opportunity to stay ahead of the competition by offering the most popular products to your customers. Visit our education page to stay informed about upcoming Demo Day events and featured brands.
Our Blog
We understand the importance of staying up-to-date with the latest beauty trends. We have created a blog that provides valuable information and resources for salon and spa owners. Our blog is an excellent source of inspiration and knowledge for those in the beauty industry, offering tips, tricks, and expert advice on improving your business. We suggest you surf our beauty blog to learn about current and upcoming trends.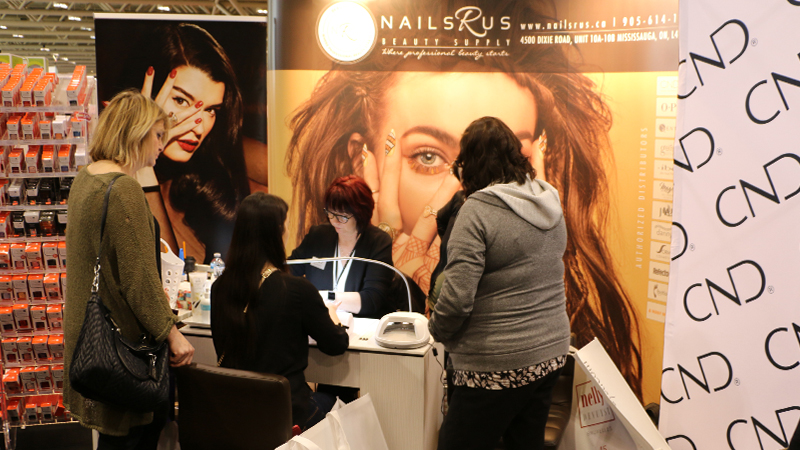 We're hosting the CND Shellac demo show in ESI 2018.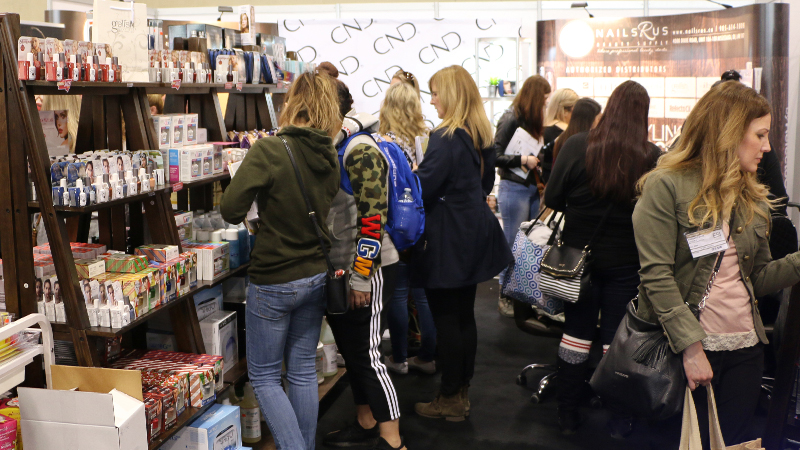 Our booth at ESI Toronto (Esthetique Spa International) 18th Edition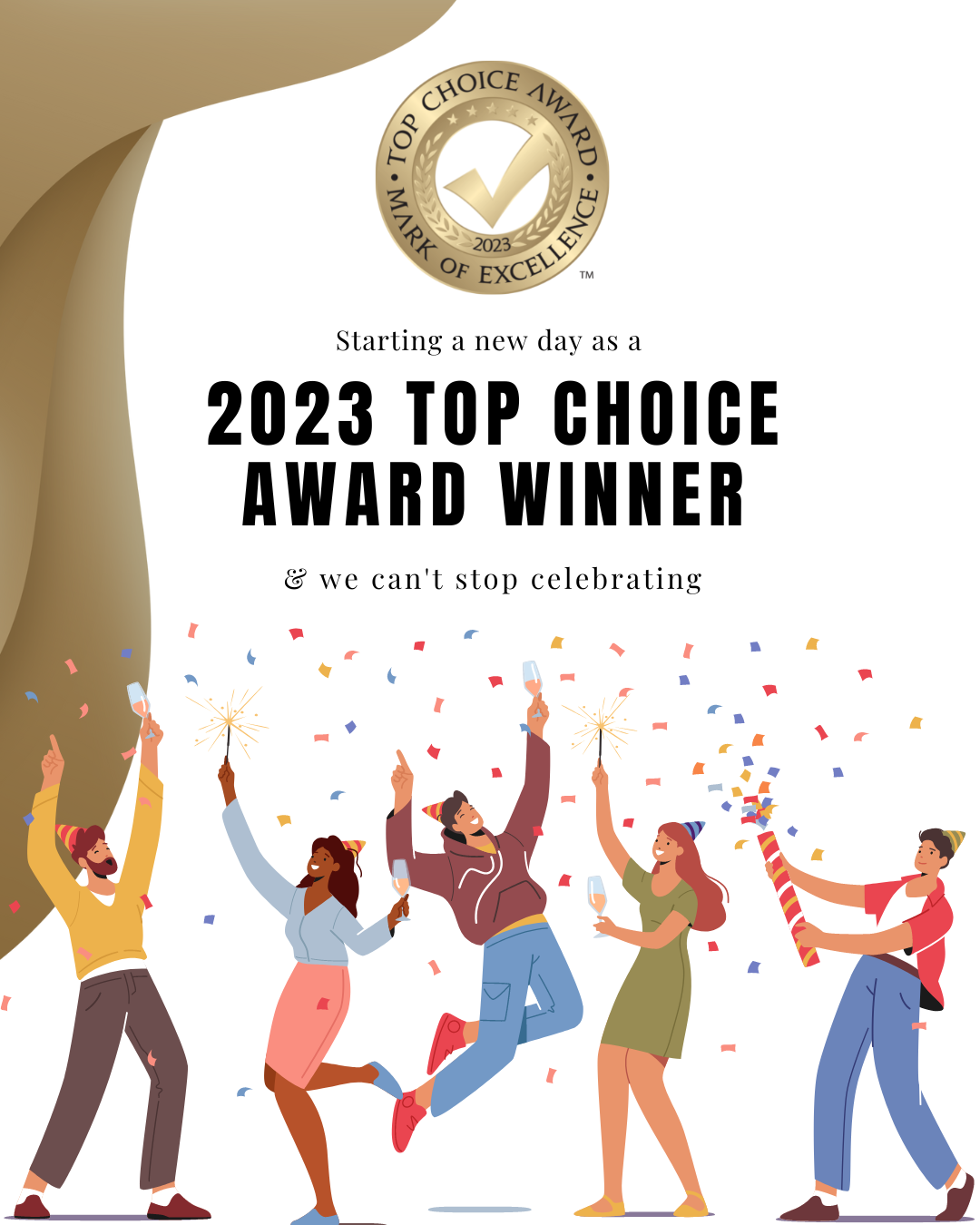 Our Awards
We are proud that Nails R Us Beauty Supply Ltd has been recognized as a winner of two prestigious awards. We have been awarded the Top Choice Awards winner for Wholesale Nails & Beauty Supply in the Greater Toronto Area; this award is a testament to our commitment to providing high-quality products and excellent customer service. Additionally, we have been awarded the Consumer Choice Award for Best Cosmetic & Beauty Supplies in the Peel Region of Mississauga, which recognizes our store as a top player in the beauty industry in the region. These awards reflect the trust and loyalty of our customers, as well as our dedication to providing the best beauty products and services. We are incredibly honored to receive these awards. We will continue to strive to provide the highest customer service and the best selection of beauty products in the industry. Our commitment to providing exceptional service and quality products has earned us the distinction of being awarded business from 2015-2022 and listed on iTrustLocal and other exclusive directories:
We would greatly appreciate your feedback on our services. Please take a moment to post a review on our profile; your input is valuable to us and will help us improve our offerings.
Conclusion
Nails R Us Beauty Supply Ltd is the perfect partner for any salon, spa, or licensed professional in Canada looking for high-quality beauty supplies at competitive prices. With our commitment to providing excellent customer service and our wide range of products, we are confident that we can help your business thrive. We are committed to providing a wide range of quality salon and spa products, equipment, and furniture, as well as expert advice and support to help grow your business. We stay up-to-date with the latest beauty trends and developments and offer them at affordable prices for businesses. Our goal is to empower salon and spa owners to deliver exceptional results; we strive to achieve this by providing excellent customer service and support and being dedicated to integrity, quality, and consistency. Visit our showroom today or contact us to learn more about how we can help your business grow. We exist to supply your business with the best beauty supplies in Canada, besides offering excellent customer support.